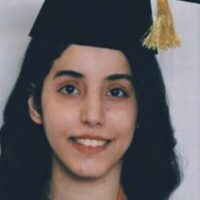 Personal information
Sex: Female
Area of activity: Blogger , Women's rights activist
Arrest and jail information
Prison: Malaz Prison, Riyadh
Date of arrest: 16 November 2022
Trial information
Charges: Manahel and her sister Fouz both face charges under the kingdom's draconian Anti-Cybercrime Law that include "opposing the laws relating to women, such as the male guardianship system and the hijab law", "participating in several hashtags opposing these laws, notably 'isqaat al-wilaaya' ('abolish male guardianship')", "having several photos and video clips in indecent clothes on [their] [social media] accounts", and "going to the shops without wearing an abaya, photographing this, and publishing it on Snapchat".
Violations
Arbitrary arrest/ detention
Timeline
Late August 2023 -

She is placed in solitary confinement without air conditioning.

26 July 2023 -

She was due to appear before the Specialised Criminal Court (SCC) for the first session of her trial, but it was postponed without a new date being set.

16 November 2022 -

She was arrested.