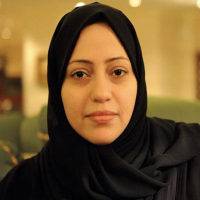 Personal information
Sex: Female
Marital status: Single
Date of birth: 28 June 1981
Area of activity: Human rights activist , Women's rights activist
Place of residence: Jeddah
Group:
Badawi is known for her persistent work defending human rights. In 2011 she was among the first to bring a lawsuit demanding that women be allowed to vote and stand as candidates in municipal elections taking place later that year. She was involved in campaigns to end the ban on women driving, and she also worked to repudiate the male guardianship laws that allow adult women's male relatives to restrict their freedom of movement and freedom to marry, among other things
Arrest and jail information
Prison: Dhahban Central Prison, Jeddah
Date of arrest: 30 July 2018
Manner of arrest: Arrested in an armed police raid on her home in the early hours of the morning and taken to a detention centre of the State Security Presidency
Trial information
Charges: Communicating with embassies and entities abroad hostile to Saudi Arabia; unlicensed human rights activism
Court: Criminal Court
Verdict: Arbitrary arrest; placed in solitary confinement; non-independent judiciary; tried on charges relating to the peaceful exercise of her right to freedom of expression and human rights work; torture and ill-treatment
Violations
Arbitrary arrest/ detention ,
Torture and ill-treatment
Violation details
Subjected to brutal torture, sexual assault and placed in solitary confinement for prolonged period of time
Awards
US State Department International Women of Courage award 2012; International Hrant Dink Award 2015
Timeline
27 June 2021 -

She was

released

following the expiry of the sentence against her.

19 February 2020 -

Women rights activists Naseema Alsada, Samar Badawi and Nouf Abdulaziz were called to for a secret trial session in the Criminal Court in which international observers denied from attending it. Due to International pressure the Saudi authorities moved the case from the Specialised Criminal Court (which deals with terrorism cases ) to the Criminal Court.

18 July 2019 -

She was summoned to attend a session of her trial in the Riyadh Criminal Court in Riyadh and was convicted of charges based on confessions to posting on social media and communicating with foreign entities. Judge Ibrahim Ali al-Luhaidan asked her to sign a document requesting a temporary release until the next hearing, without setting a date for this.

30 July 2018 -

She was

arrested

in an armed police raid on her home in the early hours of the morning and taken to a detention centre of the State Security Presidency.

2017 -

She was again

summoned

for questioning.

2016 -

She was

arrested

and briefly held in Dhahban Central Prison for interrogation.

2015 -

She

received

an International Hrant Dink Award for being "a leading voice for advocating women's rights and for raising international awareness about the oppression of human rights defenders in her country"

2012 -

She

received

the International Women of Courage Award in 2012.

2010 -

She was arrested on a charge of disobeying her father and was imprisoned for six months.