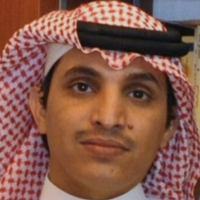 Personal information
Sex: Male
Marital status: Married
Area of activity: ACPRA Member , Human rights activist
Place of residence: Riyadh
Co-founder of the Saudi Civil and Political Rights Association (ACPRA)
Arrest and jail information
Prison: Al-Ha'ir Prison, Riyadh
Date of arrest: 26 December 2013
Manner of arrest: Arrested at court following sentencing
Trial information
Charges: Disobeying the ruler; damaging the country's reputation; co-founding an unlicensed association (ACPRA)
Court: Specialised Criminal Court (SCC)
Verdict: Ten-year prison term followed by ten-year travel ban
Date of verdict: 11 November 2014
Violations
Arbitrary arrest/ detention
Timeline
6-14 March 2021 -

He went on

hunger strike

, along with 30 prisoners of conscience, in protest against harassment and ill-treatment by prison officials at Al-Ha'ir in Riyadh, including being held on the same wing as psychiatric detainees.

11 November 2014 -

He was

sentenced

to ten years in prison followed by ten-year travel ban.

26 December 2013 -

He was

arrested

at court following sentencing.