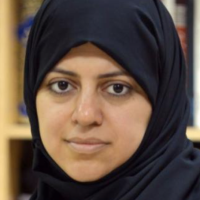 Personal information
Sex: Female
Marital status: Married
Date of birth: 13 August 1974
Area of activity: Human rights activist , Women's rights activist
Place of residence: Qatif
Group:
Nassima is known for her persistent work defending human rights, including against gender-based and religous-based discrimination. In 2011 she was among the first to bring a lawsuit demanding that women be allowed to vote and stand as candidates in municipal elections taking place later that year. She is a co-founding member of human rights organisation Al-Adalah Center for Human Rights, which like the Monitor was denied a permit to work. She was also involved in campaigns to end the ban on women driving, attended court sessions on behalf of countless victims, and has provided legal training in various aspects of human rights, including on the rights of the Shi'a population.
Arrest and jail information
Prison: Al-Mabaheth (General Investigations Directorate), Dammam
Date of arrest: 30 July 2018
Trial information
Charges: Communicating with foreign entities hostile to the state
Court: Criminal Court
Verdict: Five years and eight months in prison, half of it suspended
Violations
Arbitrary arrest/ detention ,
Denied access to a lawyer
Violation details
Placed in solitary confinement for nearly a year
Timeline
27 June 2021 -

She was released, along with Samar Badawi, following the expiry of the sentence against her.

March 2021 -

The Appeals Court in Riyadh

upheld

the sentence of five years in prison against her, with two years suspended.

25 November 2020 -

She was sentenced by the Criminal Court to five years and eight months in prison, half of it

suspended

. The Public Prosecution has appealed the sentence, seemingly with the aim of securing an even harsher sentence.

19 February 2020 -

Al-Sadah, Samar Badawi, Nouf Abdulaziz were called to a secret trial session in the Criminal Court in which international observers were denied from attending. Due to international pressure on the Saudi authorities, the case was transferred from the Specialised Criminal Court (SCC) to the Criminal Court.

30 July 2018- Beginning of 2020 -

She remained in Dammam Public Security Prison before being transferred to al-Ha'ir Prison in Riyadh.

18 July 2019 -

She was summoned to attend a session of her trial in Riyadh Criminal Court. She was convicted of charges based on confessions to posting messages on social media including Twitter. Judge Ibrahim Ali al-Luhaidan asked her to sign a document requesting a temporary release until the next hearing, without setting a date for this.

30 July 2018 -

She was

arrested

along with other activists who had advocated for an end to discrimination against women.